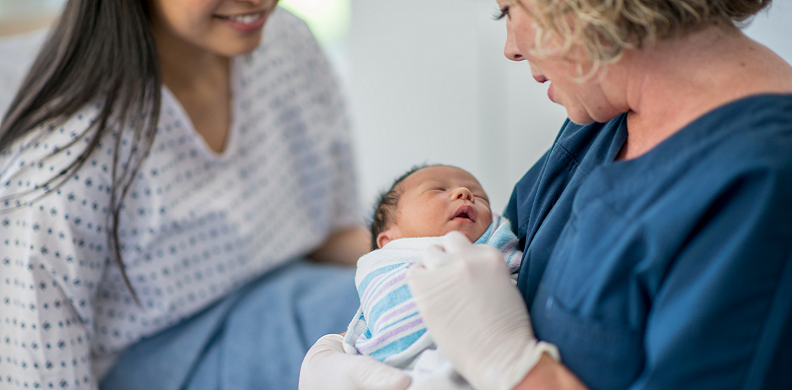 National Perinatal Nurses Week
House Resolution 1427 for 2022, has been established, to thank and promote the profession of perinatal nursing by encouraging participation in National Perinatal Nurses Week.
Posted under: Maternal Health, Other
There are approximately 350,000 perinatal nurses throughout the US that provide outstanding care for women, birthing people, and their families. Perinatal nursing is a unique nursing specialty that covers a wide range of care, including antepartum, intrapartum, postpartum, and community care. In addition, perinatal nurses work within several healthcare settings that offer a wide variety of patient care and support. At any given moment throughout the day or night, a perinatal nurse is:
Supporting a woman and her partner through labor
Providing a home visit to perform a postpartum and well-newborn check
Collaborating with a provider on the best approach to a complex maternal health problem
Giving a newborn its first bath while simultaneously performing a head-to-toe assessment
Supporting and encouraging a first-time breastfeeding mother
Leading a nursing unit, department, or service line
Participating in quality improvement activities to elevate the quality of care
Getting a new mother up to the bathroom for the first time, and providing a steady hand
Quietly crying with and supporting parents who just delivered a stillbirth
Providing primary care in a clinic or federally qualified health center (FQHC)
Bringing a new mother to the NICU to see her baby for the first time
Assessing postpartum bleeding, bonding, feeding, and overall health and wellbeing
Providing discharge education including warning signs that could save a mother's life
_______________ (fill in the blank)
House Resolution 1427
I first met Representative Lauren Underwood (D-IL 14) during my tenure at the Association of Women's Health, Obstetric, and Neonatal Nurses (AWHONN) in Washington, DC. I can vividly remember her passion and commitment to women's health, particularly maternal morbidity and mortality, and the growing maternal health disparities for Black and Brown women. During the launch of the Black Maternal Health Caucus, Representative Underwood spoke very highly of perinatal nurses across the nation who were caring for women before, during, and after pregnancy, and the collective responsibility to reduce and eliminate maternal health disparities and care inequity. I have met Representative Underwood several times since then, and her efforts to support perinatal nurses have only continued to grow.
Representative Underwood and colleagues (Representative Royball-Allard) in the United States House of Representatives have established
House Resolution 1427
for 2022, thanking and promoting the profession of perinatal nurses by encouraging participation in National Perinatal Nurses Week.
Resolution
Thanking and promoting the profession of perinatal nurses by encouraging participation in National Perinatal Nurses Week.
Whereas perinatal nurses work with patients who are attempting to become pregnant, are currently pregnant, or have recently delivered;
Whereas perinatal nurses provide prenatal care and testing, care of patients experiencing pregnancy complications, care during labor and delivery, and care of patients following delivery;
Whereas perinatal nursing includes labor and delivery nurses, mother-baby nurses, and neonatal nurses;
Whereas continuous support during labor from a registered nurse is critical to achieve improved birth outcomes;
Whereas there has been a persistent shortage of nurses across all fields, while demand continues to grow;
Whereas mothers are dying in the United States at the highest rate in the developed world, and the crisis is most severe for Black mothers;
Whereas nurses are positioned to provide unique insight into patient care circumstances that may contribute to women's deaths, thereby reducing the rate of, and disparity in, maternal mortality;
Whereas October, the 10th month of the year, was chosen to celebrate National Perinatal Nurses Week to represent an Apgar score of 10;
Whereas Apgar is the point system used to evaluate the health of a newborn baby, with 10 representing the healthiest possible score for a baby, and this score would be assigned and recorded by the perinatal nurse attending the birth;
Whereas the 10th day of the month of October was chosen to begin National Perinatal Nurses Week to represent 10 centimeters dilated, the measurement used to evaluate a woman's progress in labor, which constitutes complete cervical dilation, the successful completion of the first phase of labor when a woman is ready to deliver her baby, and this progress would be supported and recorded by the perinatal nurse attending the birth; and
Whereas the week of October 10, 2022, through October 17, 2022, is set aside to celebrate National Perinatal Nurses Week to raise public awareness of and celebrate the 350,000 perinatal nurses who are clinically active in hospitals, perinatal facilities, and health centers;
Now, therefore, be it Resolved, That the House of Representatives thanks and promotes the profession of perinatal nurses by encouraging patients, hospital administrators, health care professionals, policymakers, and others to become more familiar with the contributions of perinatal nurses by participating in National Perinatal Nurses Week.
Appreciation, Recognition, and Gratitude
I have been a perinatal nurse for 20 years. Many of my colleagues have been perinatal nurses for much longer, and some are just beginning their journey. Regardless of tenure, I offer this message:
To my perinatal nursing colleagues,
This week is for you. Thank you for everything that you do for your patients, their families, and your communities. Your continued commitment to patient care, equitable maternal health outcomes, and respectful maternity care is appreciated by many far and wide. You touch the lives of women and others every day, many of whom you may not even realize. But they remember you...your words, your compassion, and at times your mere silent presence has created lasting impressions and memories. Everything you do makes a tangible difference and leaves a living legacy, and I hope you will take some time this week to be recognized for the important contributions you make to patient care. I also hope you will share your own experiences with your colleagues, organizations, and communities, and continue to promote and protect the value and spirit of perinatal nursing.
Happy National Perinatal Nurses Week