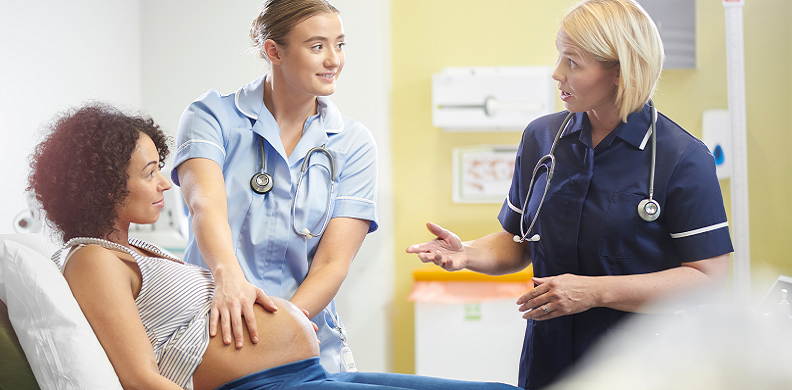 13 to Zero
Preventable maternal morbidity and mortality requires an organizational commitment that is patient-centric.
Posted under: Maternal Health, Quality of Care, Social Determinants of Health/Disparities
Inpatient maternal mortality continues to be a significant challenge to healthcare teams in the intrapartum period. Recognition and awareness of inequities in birth outcomes must be a priority for healthcare teams. Preventable maternal morbidity and mortality requires an organizational commitment that is patient-centric.
In many instances, 13% may not sound so high. That is 13 out of 100. You might not think much of it.
But if you were to hear that
13% of maternal deaths occur on the day of delivery
, that might change your mind considerably (https://reviewtoaction.org/sites/default/files/2022-10/Pregnancy-Related-Deaths-Data-MMRCs-2017-2019-H.pdf). Of 1,018 deaths reviewed from 36 states, 132 occurred on the day of delivery. That's approximately 4 patients per month or 1 patient per week. And keeping in mind that this data is not from all states, this number is most likely higher. Building into this model that 84% of these deaths were determined to be preventable creates an even greater sense of urgency.
A study (2020) exploring maternal deaths from 2002 – 2014 during the intrapartum period
revealed the following:
Black women were three (3) times more likely to die during the intrapartum/in-hospital period than their white counterparts.
Three or more severe maternal morbidity indicators were present on admission, including coagulopathy, fluid/electrolyte imbalance, hypertension, and neurological disorders.
Acute myocardial infarction, followed by amniotic fluid embolism, and pulmonary edema/acute heart failure were the primary drivers of mortality.
While a study reviewing data from 2002 – 2014 may seem a bit dated, there are still common themes associated with today that must continue to drive the conversation:
Cardiovascular disease still contributes to the rate of intrapartum maternal mortality.
Black women continue to be 3-4 times more likely to die during or after pregnancy.
To bring more awareness to this issue, the National Perinatal Information Center is embarking on
13 to Zero
. This call to action is designed to bring awareness to the continued issues surrounding intrapartum mortality and how to build sustainable quality improvement to reduce and eliminate
preventable
inpatient maternal mortality.
What does
13 to Zero
look like?
Using data to inform decisions and quality improvement initiatives, including race and ethnicity data stratification.
Recognition of birth outcome disparities and strategic plans in place to address.
Measuring and supporting psychological safety within healthcare teams.
Foundation of cultural humility and respectful patient care.
The STEEEP acronym (Institute for Healthcare Improvement; National Academy of Sciences, Engineering, and Medicine) focuses obstetric care in a way that can connect teams to purpose:
S:
Safe
T:
Timely
E:
Equitable
E:
Efficient
E:
Effective
P:
Patient-centric
Creating and sustaining high-reliability and equitable inpatient quality improvement programs is critical to eliminating preventable maternal mortality.
High-Reliability Quality Improvement: Layers of Success
Hospital Leadership/Boards of Directors
Is hospital leadership (yes, I mean the Board of Directors and the C-Suite) invested in improving maternal health?
Is maternal health and outcome disparities on the agenda of Boards of Directors/Trustee meetings? How often?
Do Boards of Directors/Trustees/C-Suite ask about QI projects on a routine basis?
Do they routinely ask about outcome disparities?
How often do they see the data? And is this data shared with Boards of Directors? Trustees?
How engaged is the Board in reviewing and understanding maternal health QI projects?
Does the Board of Directors/C-suite have a shared mental model of the social drivers/determinants of health specific to maternal care?
Do unit leaders have an opportunity to routinely engage directly with the Board and share best practices and success stories of improved maternal healthcare, particularly through a racial and ethnic lens?
Nursing and Physician Leadership/Unit Level
What does nursing leadership look like?
What does physician leadership look like?
Do they work well together?
Are they committed to the same outcomes and priorities?
Are they committed to including the voices of those most impacted in perinatal project planning?
In other words, are patients of color or others based upon identified social needs invited to participate in QI initiatives within the unit?
Is there a Patient Advisory Council that serves to facilitate connections between patients and care teams?
Have they assessed the activation and readiness of their teams to engage in QI work?
Frontline Care Teams
Let's explore the teams themselves, the team members who will be closest to the work.
Are they ready to engage in QI work?
Are Doulas considered part of the frontline care team?
Did the team have any input in creating the QI project?
Are there identified champions and informal leaders?
Is there bandwidth available?
How many other projects and initiatives are underway?
Is this considered a priority among many others?
Is the team multidisciplinary and includes all facets of care?
Are there identified naysayers?
What? Naysayers?
Believe it or not, naysayers are not only helpful, but can be very valuable to identifying barriers and real/potential pitfalls of a QI project. The "squeaky wheels," if you will, can be some of your most invested team members who sincerely want positive change. Or they have had enough of "one trick ponies" and QI projects that were not sustainable or implemented without frontline feedback. While it may be tempting to dismiss them, it is much more important to listen and hear their concerns.
The Patients Themselves
Earlier I mentioned the engagement of patients in QI project development. Yes, this is a critical component of successful QI implementation. As important as it is for your organization and team to be engaged and dedicated to QI, what if the project you are considering does not meet the needs of your patients?
Were assumptions made based upon conscious/unconscious bias rather than data?
When was the last time your healthcare teams participated in respectful care training?
Are the measures/objectives/metrics in line with the communities you serve?
How will patients react to and participate in a QI initiative? Are they passive or active participants?
How will your team be successful in your journey from 13 to Zero?
NPIC can assist your team in assessing, measuring, and developing action plans to support your journey to Zero. Reach out to Elizabeth Rochin to learn more (Elizabeth.Rochin@npic.org).