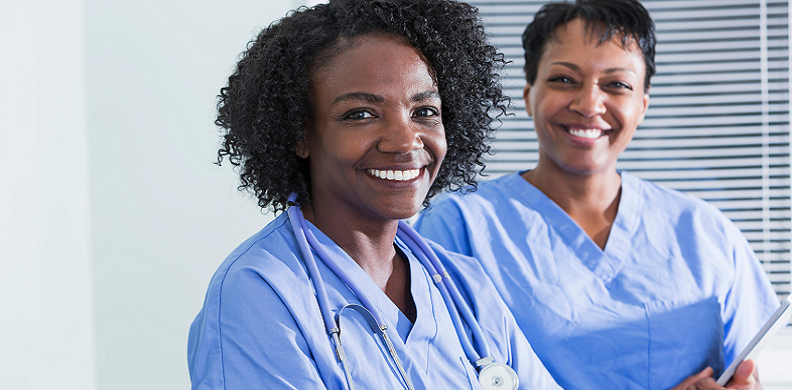 Restoration of Black Autonomy and Joy in Perinatal Nursing Leadership
There is an important intersection between Black women and birthing people, Black perinatal nursing leaders, and maternal health.
Posted under: Maternal Health, Quality of Care, Social Determinants of Health/Disparities
Six years ago, the Black Mamas Matter Alliance launched
Black Maternal Health Week
, a week each April that would highlight and amplify the unacceptable and sustained increase in Black maternal deaths . Within the global COVID-19 pandemic, the outcome disparities within Black and Brown maternal health communities continued to grow and were impacted at greater rates. On April 13, 2022, Vice President Kamala Harris convened Cabinet secretaries to address the ongoing maternal morbidity and mortality crisis in the United States. The President's FY23 budget included $470 million to address additional maternal disparities projects, including supporting the perinatal health workforce.
The perinatal health workforce has become an important discussion point, as the need for community health workers, doulas, and other Black maternal health advocates center conversations about the needs of Black mothers and parents. While there is a significant need for a community health focus, inpatient obstetric care requires intentional focus and strong leadership. As reported by the CDC and MMRIA report, 13% of maternal deaths occur on the day of delivery. Inpatient obstetric teams require experienced nursing leadership to support the infrastructure and care delivery required to provide high quality, respectful, and culturally competent care. Open nursing leadership positions within Women's and Children's service lines that were once rarely available or open now sit vacant for weeks, and in some cases, months. An area of healthcare leadership that is not often studied is that of frontline perinatal nursing leaders.
So how does this connect to Black Maternal Health Week? There is an important intersection between Black women and birthing people, Black perinatal nursing leaders, and maternal health.
Weeks ago,
Synova Associates
and the
National Perinatal Information Center
launched a white paper that reported on the effects of chronic stress on perinatal nursing leaders (
Supporting Perinatal and Neonatal Nurse Leaders: Identification and Moderation of Chronic Stress
, IRB #1321780). These nursing leaders represented inpatient settings throughout the United States such as neonatal intensive care (NICU), labor and delivery, postpartum, well-baby nurseries, lactation services, antepartum, and those nursing leaders who are responsible for multiple units.
The findings of this study revealed significant racial disparities in many areas, including turnover intent (p < .001), job control (p < .001) and organizational constraints (p < .001).
Based on the results of this study, the following recommendations are suggested for hospital leadership to address:
Healthcare leaders and communities must be made aware of the extrinsic stressors that exist for Black/African American and diverse perinatal nursing leaders. Within this study population, stressors were described as physical symptoms (chest pain, shortness of breath, p < .001) that cannot be ignored, and require additional research and development for strategies by and for those most impacted by these findings. We cannot discuss the physical impacts upon Black nursing leaders without recognizing racism and structural barriers that create environments that impact physical health.


Turnover intention, particularly as described in this study ("I won't be working here one year from now" p < .001) for Black and Brown perinatal nursing leaders must be more thoroughly explored, and the urgency of this finding addressed. It will be important to replicate this study within other service lines to establish if these findings are unique to perinatal services, or if these findings are more global to diverse nursing leaders regardless of setting.


Job Control, or the perceived ability to make decisions or the freedom to decide how to work, was also significantly decreased for Black and Brown nursing leaders (p < .001). In addition, organizational constraints (hospital rules/procedures; adequate help from others) was also significant (p < .001), which continues to generate further need for examining systems and structures in place that create these real and/or perceived barriers to effective leadership. Exploring these differences is critical and may aid in better understanding turnover intent as well as the symptoms of chronic stress described within Black perinatal nurse leaders. #structuralbarriers
During
Black Maternal Health Week
, it is important to center the conversation around Black women and birthing people and
the continued unacceptable outcome disparities that exist despite data saturation.
While assuring the health, well-being, and bodily autonomy of our diverse patients and communities continues to be a priority in our healthcare systems, it is just as important to ensure that we are providing that same level of effort and intensity at assuring the health and well-being of Black
nursing leaders
within our systems. During Black Maternal Health Week this year, celebrate the richness and diversity of Black communities and Black perinatal leaders. Support the Black Mamas Matter Alliance and the
Restoration of Black Autonomy and Joy
. Commit ourselves to amplifying Black voices and experiences and follow their lead for innovative and sustainable solutions to eradicating Black maternal morbidity and mortality.
References
National Minority Health Month. NIMHD. Accessed April 9, 2022. https://www.nimhd.nih.gov/programs/edu-training/nmhm/
Black Maternal Health Week. Black Mamas Matter Alliance. Accessed April 9, 2022. https://blackmamasmatter.org/bmhw/
Trocado V, Silvestre-Machado J, Azevedo L, Miranda A, Nogueira-Silva C. Pregnancy and COVID-19: a systematic review of maternal, obstetric and neonatal outcomes. The Journal of Maternal-Fetal & Neonatal Medicine. 2020;0(0):1-13. doi:10.1080/14767058.2020.1781809
Di Mascio D, Khalil A, Saccone G, et al. Outcome of coronavirus spectrum infections (SARS, MERS, COVID-19) during pregnancy: a systematic review and meta-analysis. American Journal of Obstetrics & Gynecology MFM. 2020;2(2, Supplement):100107. doi:10.1016/j.ajogmf.2020.100107