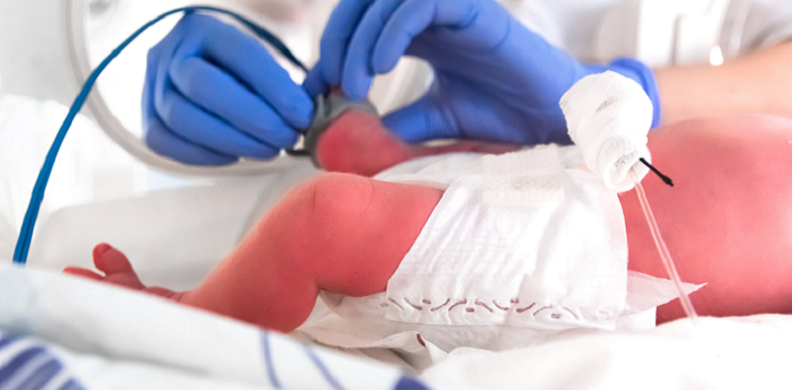 How Did We Get Here? Creating and Sustaining Supportive Team Environments
During Neonatal Nurses Week, not only should we be focused on the outstanding work of our neonatal nursing colleagues, but how can we promote collaborative teamwork that undergirds outstanding neonatal care? How can we best support our nursing teams in caring for the smallest and most fragile of patients?
Posted under: Other, Quality of Care
During this Neonatal Nurses Week, not only should we be focused on the outstanding work of our neonatal nursing colleagues, but how can we promote collaborative teamwork that undergirds outstanding neonatal care? Sometimes it is easier said than done, but one thing is sure: committing to and caring for our patients AND each other, should be our rallying cry.
Unfortunately, the news cycle of late has been rife with discussions of patient harm resulting from communication challenges and failures within teams:
April Valentine: Young woman who died while in labor. Nurses reported they could not call the doctor as they would "cuss them out."


Lucy Letby: NICU nurse in the UK found guilty of murdering seven babies in a neonatal unit and convicted of trying to kill six others. Physicians and others came forward with their concerns, only to be told to "apologize to Lucy" for impugning her of wrongdoing.
As this is Neonatal Nurses Week, I thought I would briefly explore chain-of-command opportunities in the NICU. How can we best support our nursing teams in caring for the smallest and most fragile of patients? Instead, I found a litany of information related to bullying…nurse/nurse, nurse/physician, physician/physician. And I must say, I was not expecting that. While the majority of my work of late has been to support communication challenges in the obstetric setting, perhaps we should also focus on the NICU environment.
Committing to and caring for others, including each other, should be our rallying cry.
Here are two NICU examples I thought I would share, one from a nurse and one from a physician:
Nurse:
"Guess who just got bullied out of their new NICU job? It's me. This is the most catty, cliquey, TOXIC work environment I have ever seen. I have been yanked off of orientation, belittled, completely unsupported, and now my preceptor says I need to 'rethink if this is really for me.' Like…. I have 4+ years of experience, have worked COVID ICU, charged, precepted, been asked to be House Sup…. I know I'm not dumb. But [gosh], they made me feel small. Anyone else go through this? Feeling pretty alone and discouraged right now. Luckily a past job is taking me back and I'm getting out of here."
Physician:
"The presence of incivility is not new to medicine, and certainly not foreign to us in the NICU environment. Over the past two decades, I have seen several situations develop in different institutions that create an environment where it is uncomfortable, threatening, or unsafe to conduct oneself fluidly as part of a highly functioning team. Incivility can arise simply from people choosing to disregard or disrespect one another's opinions, or it can manifest more blatantly in the form of harsh public criticism or the deliberate dissemination of misinformation that deteriorates trust levels."
https://www.medela.us/breastfeeding-professionals/blog/going-toxic-in-the-nicu-dealing-with-workplace-negativity
Think about that. Deliberate dissemination of misinformation. Deteriorating trust levels? The question is so timely…how did we get here?
And as I thought about this more, I kept coming back to the patient safety bundles developed by the Alliance for Innovation on Maternal Health (AIM). The 5 Rs, (readiness, recognition, response, reporting/systems learning/respectful interactions) create a consistent and standardized approach to improving patient care. And may even support team synergy and col
But what if there were a Team Communication Patient Care Bundle? What would that look like? How can we establish consistent, standardized ways of meaningful teamwork, enhancing communication, and improving patient outcomes?
So, the real question should be "where do we go from here?" and "How can we work collaboratively to create the best environment for patients AND our teams?"
Here is a start. I hope you will help me finish it.
ReadinessEvery hospital Board/Trustees:
As part of Governance, routinely assess work environment/psychological safety and establish metrics to evaluate hospital leadership.
Expectations of transparency related to patient harm resulting from communication failures.
Understand the scope of Directors and Officers Insurance Liability (D & O)/General Liability (GL) in the event of serious maternal/neonatal harm/death that was the direct result of a documented/known team communication challenge (incivility/bullying/intimidation).
Yearly Board assessment that includes organizational psychological safety metrics.
Every hospital
Establish parameters, expectations, and accountabilities for team communication and share documents and reports openly.
Establish a definition of incivility/bullying/intimidation and hold all employees accountable to expectations.
Assess psychological safety within units and share findings with all team members, including between/within disciplines.
Establish a centralized and representative team to evaluate serious maternal/neonatal harm stemming from potential/real communication failures.
Train staff on team communication skills annually/per policy (TeamSTEPPS as an example).
Establish a chain-of-command system that is developed and agreed upon by all stakeholders and broadly communicates plans for escalation, including real-time communication tracking.
Recognition and PreventionEvery Unit
Provide ongoing education to all team members related to communication expectations and accountability.
As a team, identify high-risk and high-stress situations that may facilitate communication challenges.
Use simulation as a guide and teaching tool for critical conversations.
Collaborative physician/provide/nursing leadership that role models teamwork and open communication style.
ResponseEvery Unit
In the event of a serious communication failure, stabilize the patient as needed/supportive care for the impacted staff member(s).
Use a standard, facility-wide reporting system for potential/real patient care challenges related to team communication.
Establish a rapid response team/process that can be available to any unit to support communication challenges within patient care.
Consistent and equitable actions for behaviors/interactions requiring intervention.
Use of Employee Assistance Program (EAP) for support/counseling within serious communication failures/patient events.
Reporting and Systems LearningEvery unit
Celebrate improvements in team cohesion and communication at every opportunity.
Perform multidisciplinary reviews of any patient care errors that may be the result of team communication failures.
Monitor rate of event reports related to team communication issues/errors/failures.
Respectful, Equitable, and Supportive Team CohesionEvery unit
Assess for and act upon real/perceived team communication challenges based on bias, discrimination, or racism.
Establish debriefing process for patient harm as a result of communication failures.