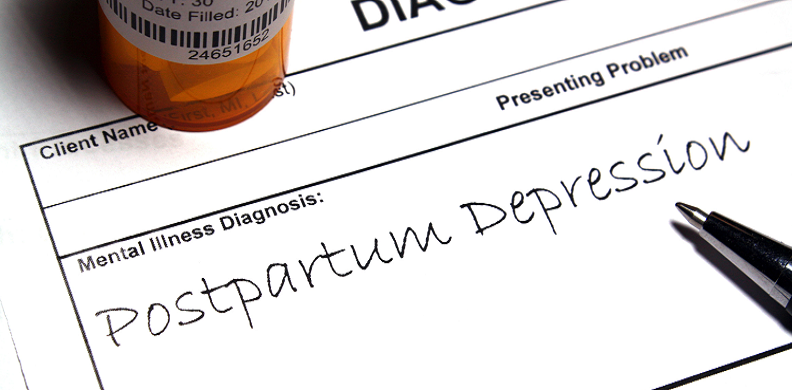 Screening is Prevention
Care providers play a major role in creating an opportunity to screen, assess and refer mothers to address any concerns about mental health. Upon postpartum checkup and subsequent annual visit, it is vital that providers seize the opportunity to practice universal screening.
Posted under: Maternal Health, Mental Health
According to the CDC, in 2021 there were 3,659,289 births. These 3 million plus mothers may have concerns about their new motherhood responsibilities and think to themselves:
"Am I doing this right?"

"What comes next?"

"Am I to feel this way?"
These questions can surround the mind of new and seasoned mothers by the day, by the minute, and by the second. There are opportunities when the mother may not feel safe speaking to anyone within her nuclear or selected support system but feels a strong connection with the obstetrician/gynecologist, midwife, or provider. In this case, the mother will benefit from a neutral, trusted person to discuss her fears and their world of uncertainty. It is at this crucial moment that the provider plays a major role in creating an opportunity to screen, assess and refer mothers to address any concerns about mental health. Upon the mother attending her postpartum checkup and subsequent annual visit, it is vital that the provider seizes the opportunity to practice universal screening.
Universal
screening is for every patient that enters the practice to be screened for mental health and substance use concerns. In previous years screening consisted of urinalysis as the only avenue, but we have since evolved to self-reported screening for alcohol, illicit drugs, nicotine, and prescription medication. If a woman feels ashamed to voice out loud her darkest fears, she may put on a face of confidence and a smile moving away from the truth and staying silent. The truth is that the mother may be hiding from loved ones her feelings of being overwhelmed, possibly feeling sleep deprived, and may be using substances for sleep, to gain confidence, or to increase her energy.
Universal Screening
Over the past few years, the American College of Obstetricians and Gynecologists (ACOG) and the Alliance for Innovation on Maternal Health (AIM) have increased the recommendations for universal screening during pregnancy for alcohol, illicit drugs, nicotine, and pain medications. This recommendation provides for several key areas, including removing potential bias in risk-based screening and the prevention of Neonatal Abstinence Syndrome (NAS) as well as sudden infant death syndrome (SIDS). According to the newest 2020 study from the
National Institutes of Health
, mothers who drank and/or smoked past the first trimester had an increase of SIDS twelvefold when compared to mothers who did not use alcohol or nicotine beyond the first trimester. Universal screening for stimulants is also important to avoid placental abruption during any of the three trimesters during pregnancy. According to the NIH (2020), 1 out of 10 births is associated with placenta abruption.
Schmidt, Skelly, and Raines (2022)
state that there are high-risk factors that contribute to placental abruption. Those factors include the use of alcohol, cocaine, and hypertension. It is beneficial to have providers and the staff invest in the concept of universal screening during the perinatal period and beyond even if a mother looks to be doing well. Postpartum can begin at the birth of the infant and last up to 2 years. There is a concern for mothers who have predisposed mental health conditions such as depression and/or anxiety. Understanding and keeping in mind the past mental health concerns is vital for the provider to be aware and continue with screening often even for non-routine appointments.
Screening Brief Intervention Referral to Treatment (SBIRT)
Screening Brief Intervention Referral to Treatment (SBIRT)
is a sustainable and billable service that is a
screening tool (S) for mental health or substance use disorder concerns
completing a brief intervention (BI) and/or education
and then refer (R) to a higher level of care or treatment (T) if necessary.
Screening, Brief Intervention and Referral to Treatment (SBIRT) is an evidence-based approach to identifying patients who may not be exhibiting warning signs but needs someone to reach out and discover there is a concern. The goal of SBIRT is to improve the quality of life and prevent negative health consequences.
The following screening tools are appropriate for the medical technician or provider to administer including but not limited to the following:
AUDIT (Alcohol Use Disorder Inventory Test)
DAST (Drug Abuse Screening Tool)
PHQ-9 (Patient Health Questionnaire-9).
The screening tools to assess mental health:
Beck Depression Inventory
Generalized Anxiety Disorder (7 item)
The purpose of these screening tools is to give the mother a safe place to express emotions and have the opportunity to answer questions that are scored with guidance for the next steps of the referral process. The SBIRT screening can be administered by any office or practice team member from the receptionist to the medical assistant, the licensed staff, and providers. The SBIRT can be given electronically, or it can be administered via paper and pencil. The SBIRT is user-friendly and assists patients to be self-aware of high-risk behaviors that may cause concern for mother and baby.
Postpartum Prevention
Universal screening by means of the SBIRT can save the lives of mothers who suffer silently from postpartum depression and postpartum anxiety. According to the
Psychiatric Times
the rate of suicide attempts has tripled for pregnant and postpartum women.
According to the
CDC's Vital Statistics (2020)
, the reports for maternal depression were alarming. One in five women was not asked about depression during the prenatal period and 50% of women were not clinically treated for depression. The one patient in five as well as the 50% could have been addressed if the SBIRT was administered during the prenatal and postpartum visits. A provider that utilizes universal screening and routinely provides screening tools encourages mothers to share their vulnerability so the appropriate interventions can be in place for the mothers.
About the Author:
Dr. Moss is a native of Buffalo, NY and a graduate of the State University of New York at Buffalo and New York University. Dr. Moss is the president and founder of
Positive Direction and Associates, Inc.®
and creator of the Positive Direction Model® an intervention/prevention program to assist pregnant women that are in recovery or active use to empower themselves and increase self-efficacy through education and addressing psychosocial issues.
Davina A. Moss, Ph.D., CRC, CASAC, NCC
President and Founder
Positive Direction and Associates, Inc.
50 Fountain Plaza, Suite 1400
Buffalo, NY 14202
716-704-5510