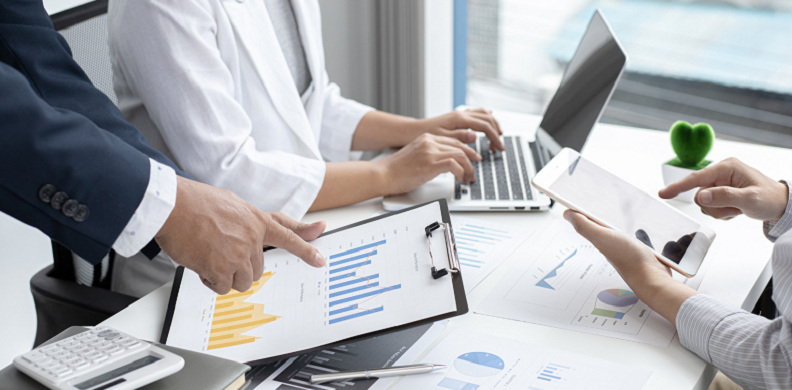 Creating a Use Case for Maternal Data and Quality Improvement
Every quarter, NPIC provides member hospitals with a plethora of data. Data that can be tremendously helpful in creating and sustaining quality improvement action plans to support optimal outcomes in maternal and newborn inpatient care.
Posted under: Data & Analytics, Maternal Health
Every quarter, the National Perinatal Information Center provides member hospitals with a plethora of data…a hospital's own data and comparisons to their subgroup and the entire NPIC database. This data can be tremendously helpful in creating and sustaining quality improvement action plans to support optimal outcomes in maternal and newborn inpatient care across the United States. While real-time data access is critical for day-to-day patient care, quarter-over-quarter data analysis can be useful to assess interventions and programmatic shifts.
So, I decided to examine a few areas many hospitals focus on, particularly
postpartum readmissions and cesarean birth
. And I also wanted to look back to 2019 and come forward to 2022, as yearly trends can inform of areas of opportunity. And both postpartum readmission and cesarean birth allow for such reflection and calls to action.
Postpartum Readmission
Many hospitals focus on postpartum readmission and for good reasons. Readmission rates tend to be used as a proxy for quality but can also be bellwethers for population health opportunities.
NPIC Database 2019 – 2023, Delivery Readmissions coded with: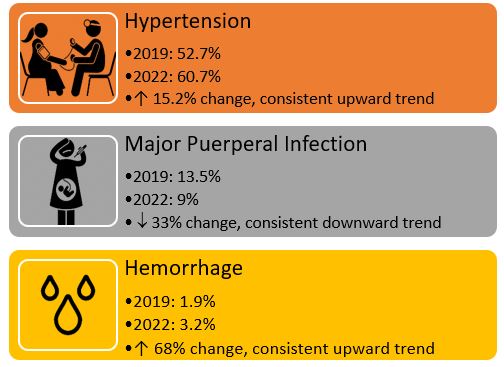 Observations:
Severe maternal hypertension and hemorrhage continue to be areas of focus secondary to AIM patient care bundles and The Joint Commission Patient Care Standards.


Not every readmission is a failure. Education on maternal warning signs and when to seek care may drive some of these readmissions. It is important to identify the drivers of readmission and any education or information that may have led to better recognition of serious maternal complications. Educational tools such as AWHONN's POST-BIRTH Warning Signs and Save Your Life tools or the Centers for Disease Control Hear Her Campaign should be used with all postpartum discharges.

AWHONN
CDC Hear Her Campaign


Major puerperal infections have decreased which is a good sign for postpartum patients. Consistent preventive measures and early identification of infection and sepsis can be lifesaving. Learn more about maternal sepsis at the Sepsis Alliance and the Tara Hansen Foundation.

Sepsis Alliance
Tara Hansen Foundation
Cesarean Birth:
Healthy People 2030 has set a cesarean birth target of 23.6% for low-risk women with no prior births. States across the US have participated in the
Alliance for Innovation on Maternal Health Safe Reduction of Primary Cesarean Birth
patient safety bundle. The original patient safety bundle was launched in 2015. So how are we doing?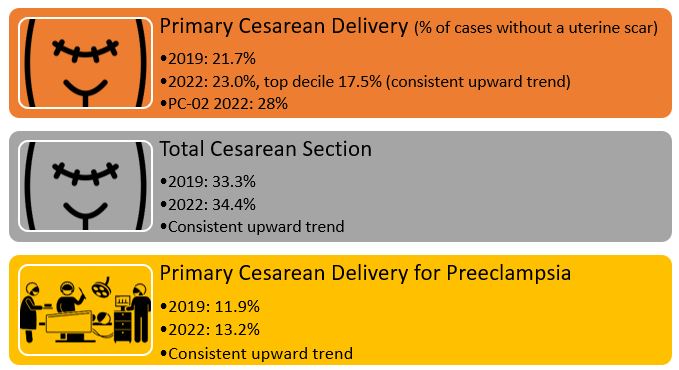 Well, as a nation, and as a database, we are not hitting the target. There are some hospitals that are getting it done and doing it well! I hope we can celebrate your work and the work you are doing to promote intended vaginal birth, and to reduce the likelihood of future cesarean birth. We look forward to continuing to engage with our top decile hospitals and supporting their work and supporting other hospitals looking to reduce their primary cesarean birth. Here are a few suggestions from some teams across the country:
Celebrate successes, even small ones. Publicly highlight physicians, providers, nurses, and other team members who consistently finish with a vaginal birth. If you don't follow Dr. Tiffany Montgomery on LinkedIn, think about it. She is the Lead for Perinatal Quality at Parkland Hospital in Dallas, consistently posting about supporting her teams' wins in reducing primary cesarean birth. Contacting Dr. Montgomery should be your next step if you are looking for ideas.


Don't bite off more than you can chew. How many quality improvement projects do you have running at the same time? Are the same team members being tapped every time? Creating space for QI is important, but sustainable change is the key. Take the pulse of your team routinely, and don't forget that frontline team members AND patient voices should always be included in any QI planning and implementation. The Safe Reduction of Primary Cesarean Birth patient care bundle requires a multidisciplinary approach that includes prenatal and intrapartum teams.


Stratify your data by race and ethnicity. Yes, this is important. Stratify your cesarean delivery outcomes by race and ethnicity. The literature for years, including the NPIC database, has shown that Black women historically have higher cesarean birth rates. There are numerous reasons for this, but lack of shared decision-making and continuous labor support, and bias/racism inside and outside hospitals have been found to contribute to higher cesarean birth rates. When you report that cesarean birth rates are "equitable," your data can support your efforts.


Understand quality improvement. No, really understand it. QI is not a "one-and-done" approach. A true QI project requires planning, data exploration, team readiness assessment, and an authentic approach to including the patient's voice (as NPIC has termed #AuthenticQI). Quality improvement also requires an investment of time (= money) and inertia. Institute for Healthcare Improvement has an excellent QI framework for reducing primary cesarean birth.
NPIC is proud to provide this brief overview of key maternal outcomes. Our goal is for you to use your data in the best possible way to promote optimal health, well-being, and outcomes for mothers and newborns in your hospitals and communities, and we are proud to be your partner.